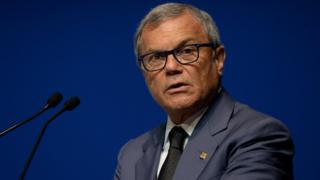 The head of the world's largest announce agency, WPP, has stepped down after an internal investigation into his personal conduct.
Chief executive Sir Martin Sorrell ran WPP for 33 times, becoming the most important one paid boss of a FTSE 100 company.
He read WPP had been a affection but it was in "the best interests of the business" for him to resign.
WPP said the investigation, over consume of corporation fund, was finished. Sir Martin has spurned claims of wrong-doing.
The chairman of WPP, Roberto Quarta, will oversee the agency until a new CEO is appointed.